"BeachyKeen"- comfortable, bright and cheery historic home -new furniture & beds
BEDROOMS: 4     BATHS: 3     SLEEPS: 14-17    PET'S ACCEPTED: NO     SMOKING PERMITTED: NO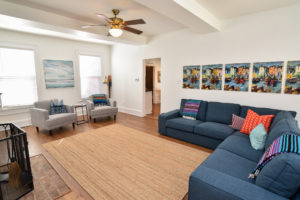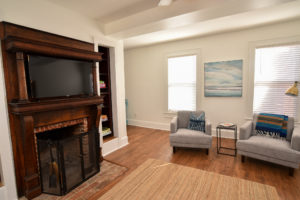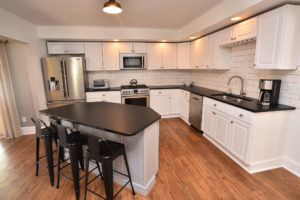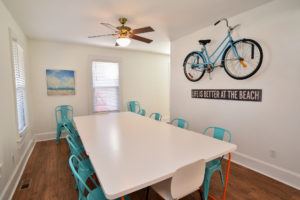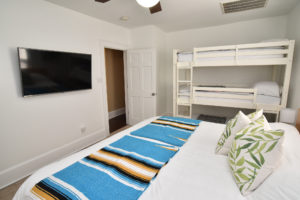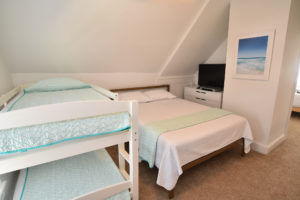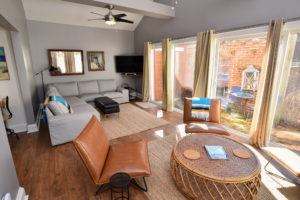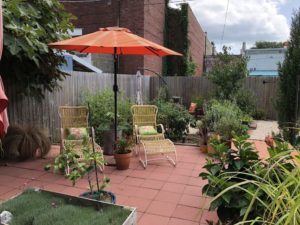 Offered for the first time in 2019 for Vacation Rental. Only 2 ½ blocks to the soft sand Cape Charles beach, the owner's children love this historic (Circa 1920) vacation home and have named it "BeachyKeen." The renovation of this historic home has achieved a very comfortable, bright and cheerful home. It is well equipped with brand new furnishings, including new beds and comfortable mattresses.
BeachyKeen is just a short stroll on the Boardwalk to the Cape Charles Fun Pier, open day and night, where you can just relax and enjoy as well as crab and fish. Also, BeachyKeen is just around the corner from downtown's main street (Mason Ave.), within easy reach of an excellent wine and cheese shop, a tavern in an old bank building, a renowned homemade ice cream shop, the library and many more shops.
Three cars can be parked in BeachyKeen's driveway and one car can park in front of the home on the street.
RV's and Boat Trailers can be parked in the driveway but not on the street. BeachyKeen has excellent TV and WiFi service throughout the home. Golf carts are street-legal in Cape Charles and just about all Cape Charles vacationers rent an electric golf cart and have a blast exploring Cape Charles by golf cart.
BeachyKeen has an inviting, fully landscaped backyard complete with 2 patios. The BBQ grill has counters on each side for serious grilling and is part of the "picnic patio" large enough for your entire group. Just off the picnic patio is a sunning patio with a chest storing outdoor games including a corn toss, a croquet set and other games that can be played in the grassy backyard. Also, just outside the home's back door is an outdoor shower with a privacy enclosure.
A backyard shed contains beach paraphernalia and a wagon to pull it to the beach.
The dining room has a large table with chairs that will accommodate 12. There is also an adjacent small table that will accommodate two children. We have a highchair plus two booster seats. Between the dining room and the kitchen there is a parlor with a large screen TV and seating for 6, but additional some chairs from the dining room can be used to accommodate additional guests.
The large chef's kitchen is open to the Living Room/Sunroom. The kitchen is fully equipped, including a large stainless steel refrigerator, a gas range, large microwave, a toaster oven, a four slot toaster and a wine cooler. There is plenty of counter space and plenty of cabinets. The kitchen's center island has electrical outlets and four stools. There is also a kitchen table that will accommodate four guests when not expanded or nine guests when expanded. This table together with the island's stools can accommodate 13 for breakfast or whatever.
Many vacationers like to congregate in the kitchen while on vacation, particularly when their vacation home has a kitchen open to a great room or living room/sunroom like BeachyKeen has. Its living room/sunroom is glassed with full view of the 2 patios and the backyard from both the living room/sun room and from the kitchen as well. A half bath is located just off the kitchen
Upstairs there are four bedrooms, two full bathrooms and a good-size utility room. Bedrooms on the second floor are as follows: A master bedroom with a king bed and a triple decker bunk bed and a TV. The Master bedroom has its own full bath, which is connected to the utility room. The other second floor bedroom includes a queen bed and a double decker bunk bed. This bedroom has access to a separate full bath.
The third floor offers two bedrooms. One has a king bed with a double-decker bunk bed. The other bedroom includes a queen bed, double-decker bunk bed and a TV.
The home's occupancy is 14 (not counting children under 2 years old), but with all the bunk beds there are beds for 17. This is what we had in mind. Some renters may want to have their own room with no bunk bed usage. So one of the bedrooms can have no bunk bed occupancy and the home can still accommodate 14. Also, with a large group of 14 plus some children under two, these young children can have a bed.
WEEKLY RATES*: SATURDAY - SATURDAY

WEEKLY: $3000     DAILY: N/A
MINIMUM STAY: 7 DAYS
WEEKLY: $2500     DAILY: $370
MINIMUM STAY: 3 DAYS
WEEKLY: $2500     DAILY: $370
MINIMUM STAY: 3 DAYS
*Plus Taxes, Cleaning Fee and Security Deposit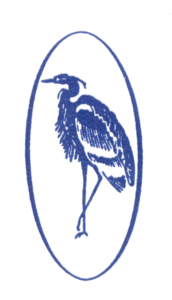 Ready to Book Your Vacation?