Why Buy with Blue Heron Realty?
No One Knows the Eastern Shore Real Estate Market Better. No One.

Since 1993 Blue Heron has helped thousands of clients successful achieve their real estate goals on Virginia's Eastern Shore. If you are looking for an investment, retirement or leisure property, selection of the real estate firm with which you work is very important. The firm and its agents will be helping you select that special "one" that really satisfies your personal tastes and requirements yet still fits into the budget. You need a firm which is up to date, not just on the real estate market, but also on the financing market as well. At Blue Heron Realty Co. we still offer the old fashioned, personalized service that our customers and clients alike appreciate and value.
Find Your Perfect Place on Virgina's Beautiful and Uncrowded Eastern Shore!
"There are no words that will truly express our sincere thanks for all that Rudy Martin did helping make our dream beach home a reality. Stephen & I will highly recommend Rudy & Blue Heron Realty to anyone interested in buying or selling real estate on the Eastern Shore!"
"Jennifer Ingram guided us through our first purchase in Cape Charles. She is the consummate professional in her industry her ethics honesty and personality make for a very enjoyable experience. We recently purchased two properties in 2019 with Jennifer at our side. She showed us many properties over the years, always showing the great attitude that we enjoyed. I would use Jennifer anytime for all of your real estate needs, five stars all the way."
I am a commercial contractor and developer from Richmond Virginia and deal with many real estate brokers. Barrett Cree is a breath of fresh air. Since the time Kay and I first met Barrett on a showing of our first property, Barrett has not only been very helpful and courteous, he has also responded to every text, every email and every phone call I have ever made to him. Developing a small project in Cape Charles and making other real estate purchases, that level of attention has been crucial to us. Thank you Barrett for your excellent service and your genuine friendship.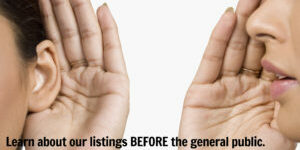 Want to Learn About Properties For Sale BEFORE Everyone Else?
Become a Blue Heron Real Estate "Insider"!