About Historic Cape Charles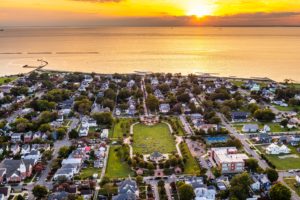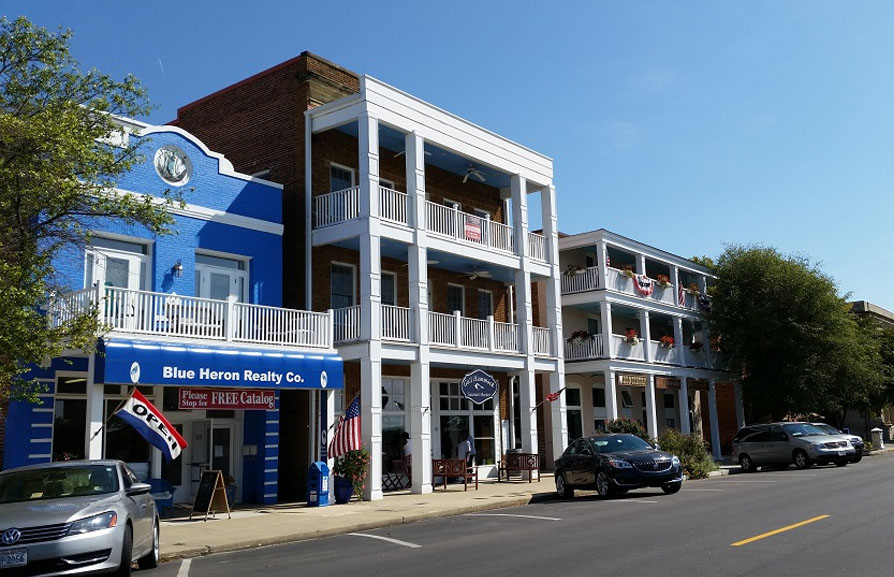 Located near the very tip of the Eastern Shore, Cape Charles was created from scratch in 1886 to be the southern terminus of the Pennsylvania Railroad whose tracks ran right to the ferry terminal at its deep water harbor. Its wide beach helped it become a popular resort town with inns, restaurants and lots of little shops for visitors to enjoy. Over a million people per year traveled to or through Cape Charles – but all of that came to an end in the early 1960's when the Chesapeake Bay Bridge–Tunnel opened and the ferry closed. Cape Charles slowly sank into oblivion until construction of the Arnold Palmer and Jack Nicklaus signature golf courses began in 1999.
Now, in the midst of the Renaissance kicked off by the construction of Bay Creek Golf Resort, Cape Charles is well on its way to glory days once again. Its deep water harbor has been restored and tall sailing ships, yachts and crabber's deadrise boats can be seen bobbing side by side at the new town marina not far from the beach and new fishing pier. A stroll through the commercial portion of the Historic District boasts beautiful Victorian buildings, painstakingly restored and lively with customers once more. The Palace Theatre has been restored to its original Art Deco beauty. The oldest bank in town, built in the Romanesque style, gorgeous interior and exterior details lovingly preserved, now transformed into "Kellys" restaurant, famous for some of the best fish & chips around! Everywhere you look it's obvious that preservation of its Victorian heritage and relaxed, coastal traditions have been uppermost in the minds of modern Cape Charles residents. Many of the elegant old homes have been purchased as leisure or retirement homes and given face lifts and new leases on life. For those interested in purchasing property in Cape Charles , one of the more interesting aspects of the town is the availability of a variety of home styles including American 4 Square, Gothic Revival, Georgian, Victorian, Saltbox, Sears cottage style, etc. all standing side by side in a glorious architectural stew created in the early 1900's. Cape Charles is truly the pearl of the Eastern Shore, our Mayberry, complete with wonderful front porches, offering a relaxed, friendly atmosphere and presenting lifestyle choices galore–beach, boating , golf, historic. What more could anyone ask of a small coastal town?
Virginia Found host Dave Parker explores the lower Eastern Shore around Cape Charles, Virginia. In this episode, take the world's first kayaking winery trip, see places to stay that range from plush to family fun, learn about world class golf courses, see how the beaches compare to others in the state, and see why visiting the Eastern Shore is truly a getaway.
View Cape Charles Homes for Sale
View Cape Charles Vacation Rentals