Homes For Sale On Virginia's Eastern Shore
Buy More Home at a Lower Price than Overcrowded Coastal Communities on the East Coast!
Whether you're looking for a waterfront mansion, beach cottage or a home in a boating lifestyle community you're likely to find it here for less. If you'd prefer a golf community condo, vacation/weekend retreat, retirement home or investment property, we have those too! So take your time and look around there's plenty to see!
Search Homes For Sale By Lifestyle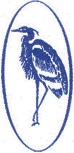 Want to Learn About Propeties For Sale Before Anyone Else?
Become a Blue Heron Real Estate "Insider"!