BEDROOMS: 5     BATHS: 2     SLEEPS: 12     A/C: YES     PET'S ACCEPTED: YES     SMOKING PERMITTED: NO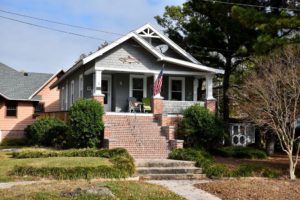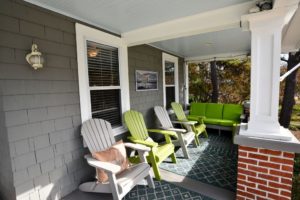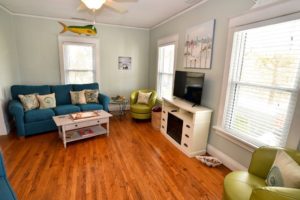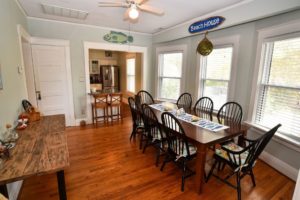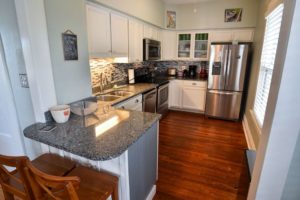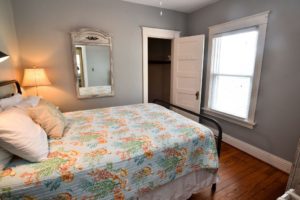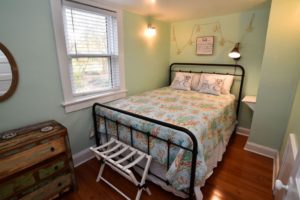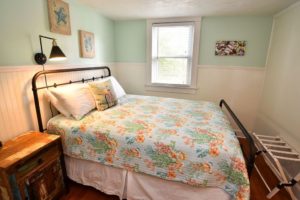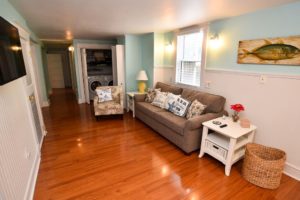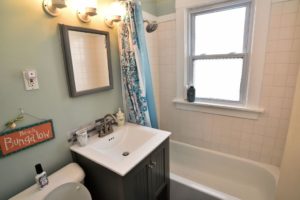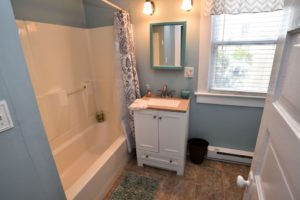 Historic Barefoot Bungalow home, previously featured on HGTV's "Beachfront Bargain Hunt" show is comfortable, bright, fresh and cheerful. Located only one house off the Cape Charles soft sand beach and one street over from Main Street, it is well equipped with brand new furnishings in a nautical theme, including new beds and comfortable mattresses. The main floor (second floor) has a colorful living room with teal-colored walls and comfy blue sofas, chairs and a TV. The main-floor bedrooms includes two queen beds with attractive bedspreads. The main floor also has a full bath. The kitchen is adjacent to a separate coastal- themed dining room with seating for 10. The bottom floor has two queen bedrooms with lovely bed spreads. The first floor bedroom also includes two sets of bunk beds with trundles and a quiet little reading corner. The large full first floor bath includes a shower with an adjacent washer & dryer. The bottom floor also has a nice living area offering a wall mounted large TV with many movies to choose from. Great home for relaxing on the full front porch, perfect for reading a new book or enjoying iced tea and just watching the world go by. The house offers up a nice covered outside sitting area in the back of the home with a grill and picnic table and an outdoor shower for all the beach goers in the group. This home is very kid-friendly with games and books. Also, the town always has activities planned for kids of all ages.
Parking is in front of Barefoot Bungalow on the street or on the eastside of the home. However, if you are pulling a boat, it is best not to park your boat trailer on the street (and soon may not be permitted) Please contact the Cape Charles Harbor Master for info to store your boat safely at the Cape Charles Harbor. PHONE # 1-757-331-2357. Last year the low cost was $30/week.
The location of Barefoot Bungalow is central to most everything in Cape Charles. The Cape Charles soft sand beach, connected to the Fun Pier (open day and night). You can walk and/or rent a golf cart to go to the beach. You can put your beach paraphernalia that includes beach chairs, umbrellas, skim & boogie boards, beach toys and inflatable rafts in the golf cart and or pull it in our beach wagon. You can also take your car because parking is free at the beach.
You can take an early morning jog or walk around Central Park. Then close by, you can enjoy breakfast and/or lunch at these unique eateries:
"Tim's Restaurant" specializing in Eastern Shore home cooking from scratch.
Try the new "Peach Street Books," a new bookstore offering a nice selection of books as well as unique and delicious breakfast biscuits or lunch wraps.
Boggy on down to "Rayfield's Drugstore" and enjoy an old fashioned breakfast or lunch at their lunch counter.
If you love bakeries, you can walk to two bakeries on Mason Avenue: "Coastal Bakery," specializing in gourmet baked goods of all kinds and absolutely wonderful sandwiches, and "The Bakery on Mason Avenue," coming this Spring and will specialize in homemade bread baked by a master bread maker. Try their raisin bread, yum!
For a treat try the "Gourmet Alley" around the corner for a gourmet breakfast or lunch.
Take an easy walk or golf cart ride to the "Cape Charles Coffee House" with excellent coffee, breakfasts, lunches and luscious homemade cakes. Eat inside or on the patio.
Another easy walk is to the Dacha Tea House, a Russian Tea room serving authentic Russian lunches and an owner who shares her knowledge of Russia.
Snacks? We have plenty!
Children and adults alike will enjoy shaved ice in many, many flavors at "Peach Street Shave Ice" within a baseball's throw from Peach Retreat. Like ice cream? Walk to Rayfields Drugstore and enjoy an old fashioned malted milk or walk to "Brown Dog" and enjoy their famous and wide variety of homemade ice creams.
When you want to go out for dinner:
Enjoy excellent Pizza with the kids at "Deadrise Pizza"
Walk to 'Kelly's Tavern" in an old bank building on Mason Avenue serving a wide variety of drink and food
Make reservations at the "Hook & Havey" and enjoy gourmet dishes prepared by an admired and experienced creative chef.
Enjoy eating on the water at the upscale "Oyster Farm Restaurant" or at the fun and colorful "Shanty" on the Cape Charles harbor serving seafood and a wide variety of other good foods.
It is our goal to assure that at Barefoot Bungalow you will have a problem-free, enjoyable memorable BEACHY VACATION!
Here is what you can count on. A sanitized and clean home will greet you when you arrive. Our housekeepers use as many green cleaning products as possible to try to avoid a strong smell of cleaning products. The linens, which are included in your rental fee, will be fresh, beds will be made up, extra blankets are available. The gas grill will be ready to go and plenty of gas will be available in two tanks. Our heating and cooling systems have annual maintenance and will keep temperatures comfortable. Air filters are changed regularly. Supplied are paper towels, tissues, toilet paper, soap, dishwasher soap, etc. Importantly, in the unlikely event you should have a problem, call us and we will respond quickly to take care of any problem.
WEEKLY RATES: SATURDAY - SATURDAY

WEEKLY: $3000     DAILY: N/A
MINIMUM STAY: 7 DAYS
WEEKLY: $2600     DAILY: $375
MINIMUM STAY: 3 DAYS
WEEKLY: $2600     DAILY: 375
MINIMUM STAY: 3 DAYS
*Plus Taxes, Cleaning Fee and Security Deposit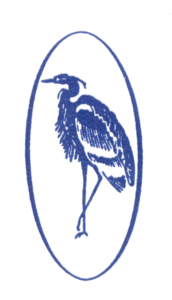 Ready to Book Your Vacation?